So to round out 2018, here's a story of "completion" for you all.
Although I run Rick's website, I started off as a fan - pure and simple. I attended concerts including some early ones and in the 70s and 80s bought all the albums, just like many of you.
In 1976, just around the time I was leaving school, I saw an advert in what was probably Sounds newspaper, for a signing session in Oxford Street for Rick's new album, No Earthly Connection. I think it was HMV, but I can't be 100% sure. Anyway, I made my way into London that day (for the transport lovers it was a 64 bus to Tooting Broadway from Croydon and Northern Line into the City!)
I queued and sure enough came home with my new LP and a whole host of signatures, including Rick himself of course. Maybe it was my age, maybe the way I got the album, but whatever it was, No Earthly Connection became my favourite album of Rick's and it still is to this day.
When I first started the website in 1996 and was building the discography, I used a scan of my album cover as the artwork (it's still there if you look today in 2018!) - It was my little "Easter Egg" on the site.
Well times come and times go, we tend to file away our treasured possessions, especially with the advert of CDs and then digital music. But recently I was asked to revise the artwork for the album for a new CD release for Rick's store. As any serious fan of Rick's will know, the lyrics on the original album sleeve differ somewhat from what is sung on the record itself - it often happens. This was my chance to correct them, and so I went digging through my garage for the box and the original sleeve.
Looking at the artwork and signatures was somewhat poignant because of course not all of the original band are now with us. I looked closely at each signature and suddenly realized something I hadn't noticed before. THERE WERE TWO SIGNATURES MISSING. On the day of signing, there was mayhem as the albums were being passed around and I just didn't notice that not all the band signed it.
The good news was that the two missing signatures belonged to two gentlemen who are very much still with us and still part of Rick's musical entourage. I sent them both an email and they graciously offered to sign the cover. So off it went in the post back to England and as you can see from the photos below, I am now the very proud owner of an original copy of No Earthly Connection signed by ALL the members of the band.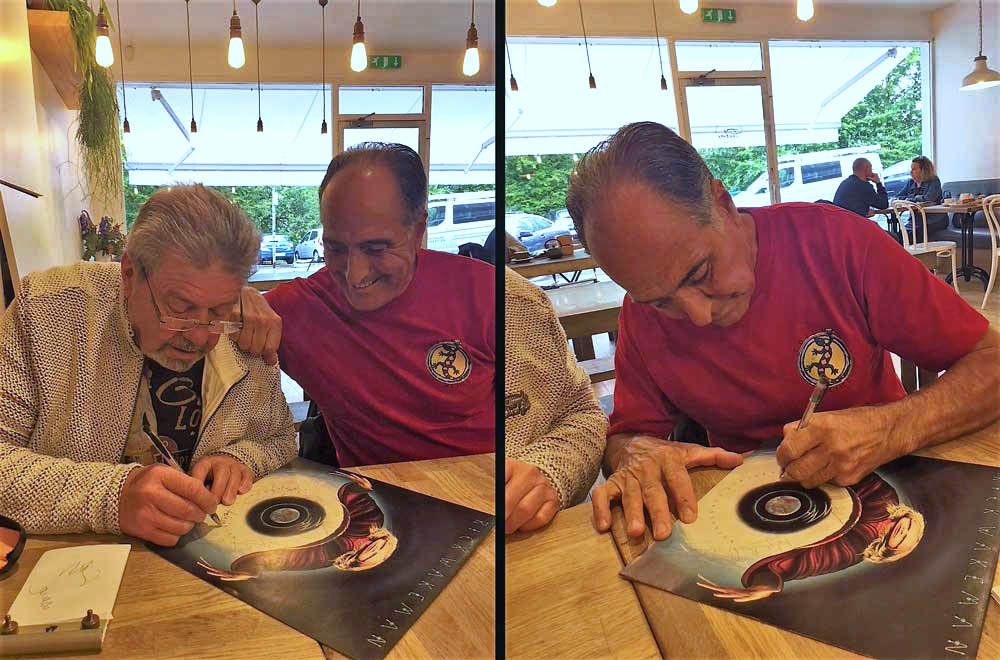 Assuming it was HMV in Oxford Street, makes it all the more relevant, given the news about the possible demise of the chain! Rick was only there again recently signing copies of Piano Odyssey.
Anyway, many thanks to Ashley Holt and Tony Fernandez for signing the cover and thanks to a certain someone (you know who you are!) for arranging it!