ISBN-13: 9780340621516
Publisher: Hodder & Stoughton
Publication Date: 4 May 1995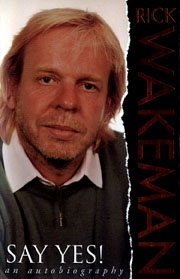 Synopsis

This book is dedicated to just four of the many people who have touched my life:
Mildred Wakeman, who brought me to life
Cyril Wakeman, who shaped my life
Nina Wakeman, my partner in life
and Jesus, who gave me life
'I've been in and out of Yes more times than Barbera Cartland has put pen to paper. The band still has a massive following around the world with an annual Yes convention and more fanzines than I can keep up with. Yet our highs and lows have never been documented, especially by someone from the inside.'
With the Strawbs, Yes and through his solo career, Rick Wakeman is known to millions for his keyboard wizardry and brilliant compositions. From his earliest days as a concert pianist, Say Yes! is a humourous celebration of 25 years devoted to the best in music. After many classic albums like Fragile, Close to the Edge and Listzomania, he now plays with Anderson Bruford Wakeman Howe.
Yet Rick Wakeman's life has not been laughter all the way and Say Yes! reveals the darker side of three marriages, a heart attack at twenty-five and a long struggle with stardom. Through it all runs the thread of his belief in God, an outrageous sense of humour and a passion for golf. Here is a candid and highly entertaining journey to the centre of rock.
Taken from the back cover of Say Yes!
Rick certainly intends to update Say Yes! and he has plenty of material to hand, however there are no immediate plans to update the book, nor are there any plans by the publisher to reprint it in its current form. At the moment, eBay seems to be the only source.