Rick Wakeman is at his best in front of an audience, as we're sure many of you know. This page contains details of all forthcoming performances worldwide. We also try where possible to list appearances on TV and radio.
You can also checkout Rick's Previous Tours or an archive of selected Tour Programmes
---
Tours
The Return Of The Caped Crusader
Rick takes his band on the road for an evening of classic prog rock in February 2024.
On 22 and 23 February of this year, Rick and the English Rock Ensemble revisited his multi-platinum back catalogue – both solo and with his former band YES - with two sold-out concerts at the prestigious London Palladium. Their performances received such a rapturous response from audience and media alike that Rick has decided to take the show on the road, with The Return Of The Caped Crusader… Tour of the UK in 2024.
The tour will start in Glasgow on 15 February 2024 and then visit Liverpool, Manchester, Brighton, Cardiff, Birmingham, York and Gateshead before concluding in Bristol on 28 February. The two-part show will consist of Rick's new arrangements of Classic YES material for band and vocalists, followed after the interval by his much-loved epic Journey to the Centre of the Earth.
Rick will of course be playing the leading role on keyboards, while the English Rock Ensemble line-up will be the same as the Palladium shows: Dave Colquhoun (guitars and backing vocals), Adam Falkner (drums), Lee Pomeroy (bass and backing vocals), Hayley Sanderson (vocals) and Adam Wakeman (keyboard, guitars and backing vocals).
"I was amazed to discover that we could have sold the Palladium shows many times over and the clamour for extra shows by fans who missed out was overwhelming", comments Rick. "Following the great reaction and reviews of the shows, I am really pleased that we can again perform the Classic YES / Journey to the Centre of the Earth Palladium programme. Who knows? If these are successful, maybe we can do the Six Wives / King Arthur show at a later date!"
Tour Update
Due to overwhelming public demand, Rick is delighted to announce an additional London show to his UK tour with the English Rock Ensemble in February 2024. Rick and the band will now be appearing at London's historic Theatre Royal Drury Lane on Tuesday 27th February.
"The talent within the English Rock Ensemble and their understanding of the music I continually throw at them never ceases to amaze me and will raise these concerts up to yet another level", comments Rick. "I'm very excited to be taking the show to a fantastic West End theatre like the Theatre Royal Drury Lane."
Tickets for the London show are on sale Friday 14th July at 10am
| Date | Venue | Tickets |
| --- | --- | --- |
| 15th Feb 2024 at 7:00 pm | Royal Concert Hall, Glasgow, UK | Tickets |
| 17th Feb 2024 at 7:00 pm | Philharmonic Hall, Liverpool, UK | Tickets |
| 18th Feb 2024 at 7:00 pm | The Bridgewater Hall, Manchester, UK | Tickets |
| 20th Feb 2024 at 7:00 pm | Brighton Dome, Brighton, UK | Tickets |
| 21st Feb 2024 at 7:00 pm | St David's Hall, Cardiff, UK | Tickets |
| 23rd Feb 2024 at 7:00 pm | Symphony Hall, Birmingham, UK | Tickets |
| 24th Feb 2024 at 7:00 pm | Barbican Centre, York, UK | Tickets |
| 25th Feb 2024 at 7:00 pm | The Sage, Gateshead, UK | Tickets |
| 27th Feb 2024 at 7:00 pm | Theatre Royal, Drury Lane, London, UK | Tickets |
| 28th Feb 2024 at 7:00 pm | Bristol Beacon, Bristol, UK | Tickets |
---
One off Appearances
Saving Strays at Christmas
Join Rick, Peter Egan and a host of guests to celebrate Christmas at two beautiful venues, all proceeds going to UK Charity Saving Strays.
Guildford Cathedral on November 24th at 6.30pm - Tickets
St Mary Le Tower, Ipswich on December 23rd at 6.30pm - Tickets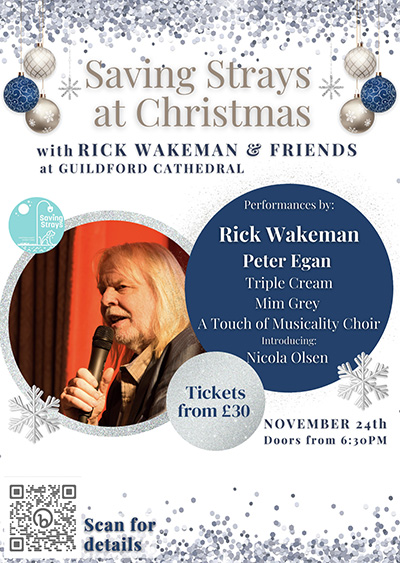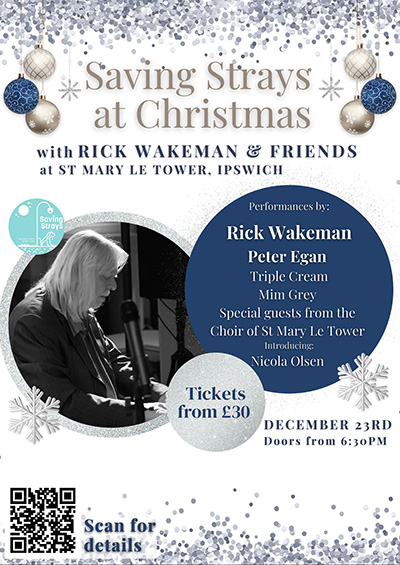 ---
One off Piano Shows
Before the end of the year, Rick will be playing three piano shows (with a couple of additional keyboards thrown in for good measure), maybe even a couple of Xmas tunes.
Lowther Pavilion Theatre, Lytham St Annes on 10th and 11th November - Tickets
Princess Theatre, Hunstanton on 7th December - Tickets
---
Previous Tours/Appearances
These are the tours that have been listed on RWCC since 1996. For earlier dates, you can try setlist.fm
2023
2022
2021
2019
2018
2017
2016
2015
2014
2013
2012
2011
2010
2008
2007
2006
2004
2003
2002
2001
2000
1999
1998
1997
1996
In addition to the above formal tours, this is a list of one off dates.
Previous Tour Programmes
These tour programmes are presented as PDF files. My thanks go to the contributors of these programmes.
Contributors: Paul Chandler, John Chivers, Martin Cook, Paulo Edson, Graham Johnson, Eddie Lee, Eddie McFadden, Brian Neeson, Craig Smith, Derek Wales