Journey to the Centre of the Earth (1974)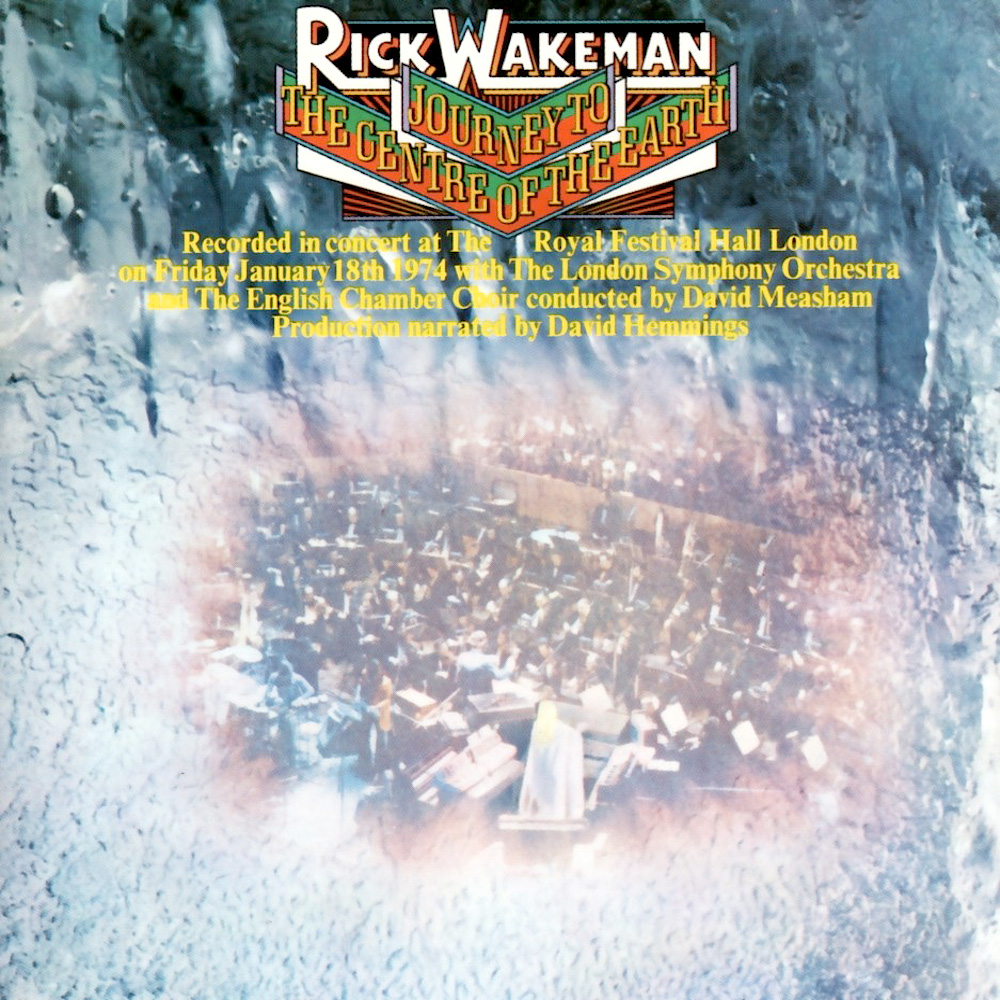 Rick's Perspective
Notes
Little known fact but I had to mortgage and sell nearly everything I owned in order to make this album as I only had £4,000 from A&M to pay towards it. In fact that is one of the reasons it was recorded live as I just couldn't afford to record it in the studio. On the day of the live concert I received a writ for non payment of my milk bill by the Express Dairy.
The original music was written to be much longer as well, but had to be severely edited to make it shorter to perform live so that it would fit on two sides of the album!!! And what happened to the edited music? Well suffice to say that throughout three divorces much has been lost!
The concert was recorded on 16 track tape and basically there was spillage onto all the tracks from everything. The Battle suffered the most as some terrible wrong notes, bad playing and a horrendous buzz made quite a substantial section completely unusable. It was not possible to re-record either and match sounds and so a chunk of the piece was copied and used twice, hence for the astute listener, there is a verse section of completely wrong lyrics.
Wakey's Verdict
One up for musicians. A&M in England hated it and didn't want to release it. The issue on finally releasing it was forced through by A&M in America.
Little Known Trivia
The only person concerned with either the concert or the live recording who didn't go to the after show party, was me. I felt so ill and tired after being up day and night for 72 hours that I just went home to bed and slept for the first time in three days.
Reviews
Matt Parish on 31st October 2019 [Other reviews]
When Journey was released I was 16 years old and ripe for any adventure. This album took me directly to the places only imagined in books. The fact that this is a live recording is almost as astonishing as the adventure itself. Rick's craftsmanship of both melody and narration lead you into a world within a world...one you will never forget.
Allen James on 9th November 2016 [Other reviews]
This is my second favorite album/cd. I totally enjoyed the performance. I remembered watching this on a television program called "In Concert" and this is where I discovered Rick. At the time I did not know he was with Yes but I knew about his first album. After all these years I still enjoy listening to this music. Rick, after what you went through to write, rehearse, perform and record this album; you did an extremely good job. this was an excellent recording, mistakes and all. Thank you for your efforts through all these years. I'm 56 years old and been listening since the age of 14.
Tim Burnell on 12th February 2013 [Other reviews]
A truly magnificent album. It follows an epic journey undergone by three adventurers to the centre of the earth. An Orchestra accompanies singers and Rick Wakeman's many synthesizers. At points the album is up-beat and groovy whilst at others it is majestic and moving.
Neil Ziguma on 10th June 2009 [Other reviews]
A great piece with lots of great musical ideas. The opening theme is continually developed throughout the piece providing cohesion. The live performance, with its faults adds rather that detracts from the experience providing a sense of drama. The narration and music is drmatic and a pleasure to listen to. The only problem was that it seemed a bit abrupt and didn't quite flow at times. What a shame we don't have the complete piece as mentioned by Rick!
Cristian Muresanu on 16th January 2009 [Other reviews]
The first masterwork, with classical orchestra, rock band, choir, soloists, synths and a storyteller, which really had reach the heart of the listeners all around the earth. Many classical oriented styles are intermixed with different rock colours, amazing female choirs, science fiction atmosphere and sound effects, the ending has a nice inspiration from Peer Gynt, The cave of the king of the mountains. (track 4 second part)
Daniel Blavos on 28th June 2006 [Other reviews]
What can be said that hasn't been said? This is possibly one of the greatest compositions of all time. A dark aura surrounds this recording. Synth-lovers, you're in for a treat. There's something for everybody in this. I am a guitarist and enjoy every movement of this great piece of work. Thank you for your hard work, Rick!
David Iain Stalker on 20th January 2006 [Other reviews]
A superb album which inspired me as a young teenager, I listened to is so much I new all the narratives and vocals. So much so, it inspired me and I quoted some of the scripting in my English O Level and passed. Once heard never forgotten, thank you Rick, I hope you are not a crumpled heap of beer stained denim!
Mick Perron on 2nd October 2005 [Other reviews]
This is an amazing album. Although some say the vocals were bad, I think they added to the overall appeal and mood of the song. The keyboards Rick played sounded great, and sinister at times. The different parts each lead to their own mood, and set the feeling correctly to their name. And the narration was superb. Highly recommended. (I just bought the 30th anniversary DVD!)
Phil Bradley on 19th September 2005 [Other reviews]
I first heard this at a friends and spent ages tracking it down. It was, and remains my favourite album of all time, from anyone. The interplay of orchestra, keyboards, vocals all blend together to make an awe inspiring piece. Even the small errors and blips add to an atmosphere of excitement. Having heard it thousands of times I still find new bits here and there - it's an album you can never tire of listening to.
Daniel Hull on 8th December 2004 [Other reviews]
The Journey to the Centre of the Earth is a rather controversial album, on one hand you have the classical style, (the orchestra and choir) but on the other you have a one off album that can't be matched (well possibly by either Jeff Wayne's 'War of the Worlds' or Genesis 'The Lamb Lies Down on Broadway'). The imagery obtained from the story along with the playing of the orchestra and keyboard allows a mental picture like no other. The keyboard playing gives the music a 'certain haunting quality' which is only present in this and 6 Wives.
Patrick Summey on 28th September 2004 [Other reviews]
This epic is marvellously composed. It actually inspired a dream for me. One word-BIG. If you look at the cover, you can't even see the audience. Ashley Holt is a wonderful vocalist, although Gary Pickford-Hopkins...is...struggling. I'm hopefully going to help arrange an excerpt for my school's marching band...BIIIIIG!
Paulo Musa on 21st August 2004 [Other reviews]
I saw the concert in Rio back in '76 I already had the album, read Verne's book. For a 12 year old surfer Wakeman's long blond hair and his keyboards with the chorus and orchestra seemed to describe a fantastic voyage not to be missed, the perfect translation to professor Lidenbrook´s journey. I still listen to the album with my kids who surf as well.
Lukas Devita on 18th November 2003 [Other reviews]
There's obviously no doubt about the greatness of the album! Thanks also for sharing with us the exciting Rick Wakeman story about how hard the true masterpiece was born. Trying not to repeat the things told in previous well-written reviews I only would like to add that it was probably the most famous Rick Wakeman recording here in the Baltic states of the former Soviet Union. And was the first I ever heard as a kid back in the 1980s. On this side of the "iron curtain" at the time you could probably find a few real vinyl LPs of "Journey..." in the whole of Lithuania. Many of us would tape it from each other, as I recorded it on mono cassette player from old mono reel-to-reel tape recorder by strong recommendation of my beloved cousin. It's hard to imagine how terrible the quality of sound was in our case. Somehow it didn't restrict the overwhelming impression we received and the feeling of the musical journey. In my opinion, the spirit of perfect melodies and performance is so strong that it breaks through any bad conditions and puts a good mark on the whole our lives.
Gabriel Blumenkranz on 15th May 2003 [Other reviews]
One of the best albums I`ve ever heard, and in my opinion, the best in all of Wakeman`s discography. A ¨must have¨ for every music lover. A masterpiece from the very beggining to the very end. Wakeman really take us in this journey, the way he can manage to blend the keyboards with the orchestra to create this almost surrealistic experience is fascinating. Thanks Rick
William Menz on 22nd December 2002 [Other reviews]
When this album was released in 1974 it was a milestone in music, it totally redefined what music could be. No longer was there just rock or classical, there was an album that incorporated it all into a contemporary symphony. The use of a symphony orchestra and choir, as well as a rock band, synthesisers and tape SFX, moves music to a new level of expression. It was and still is far ahead of any of the "contemporary classical" music that's being pushed as new and innovative. The innovation and integrity that was used to portray a scifi/fantasy story, not as film music, not as classical, nor rock or any other individual style. A whole new style was created to express this story, a style that has influenced many people since.
Mehmet S Ozcan on 1st November 2002 [Other reviews]
Ladies and gentlemen, this album, together with King Arthur, stands among the ouvre of Wakeman. You may have criticism on the lyrics, on the orchestration or on how the whole concept is blended into an album. Everybody may have a different view on the overall sound of the orchestration and of that of the rock band. But I salute Wakeman in his effort in doing this remarkable piece of work. I first heard this album at the age of 10 or 12, and since then, I return to it again and again. The mere presence of this messageboard, among with many others on the web, is a proof that there is something to remember and talk about!
Tim Boudewijn van der Wart on 30th March 2002 [Other reviews]
This has to be the standard to quality entertainment, written by the master himself (as is all his work) it shows the world that music has been given a new definition; Music=Rick Wakeman, the rest is just insignificant sound (okay, not all of it, but a lot is!). A perfect Rock-Opera with full orchestra and choir, Rick plays the moogs perfectly and all his other synths too. I can listen to this one a million times and I even like it better! The singers being bad just makes it more fun to listen to. I can't get enough of the forest and the moment the storm begins always is one of the most enjoyable moments of the album for me. It has a perfect grand opening and a ditto ending! This particular version is great but the dvd version is even better! If you do not own a copy yet, you should better rush yourself to the store to get one!!
Jim Fletcher on 10th August 2001 [Other reviews]
This is one of a very few albums I loved all the way through the first time I heard it (except for the vocals, but they've grown on me over the past 25 years). I have three copies of it, the orignial LP, a quad LP, and the CD. "Journey" is a major work by a young musician. I really expected Rick's popularity to exceed Elton John's at the time (another young keyboard musician) but I guess the lowest common denominator prevailed. That doesn't take anything away from a truly wonderful piece. Even my parents were impressed by it!
Tina Hansen on 27th March 2001 [Other reviews]
This album is a great way to introduce people to the work on which it is based. It would make a good multimedia show if you could add visuals to it.
Tony Elvers on 25th November 2000 [Other reviews]
On a biblical scale, this album sums up the very essence of Rock/Classical and Jazz. Rick has managed to mix all these themes together into a truly wonderful "experience". A must for all ages and likes!
Nic Neufeld on 12th November 2000 [Other reviews]
When I first listened to this, I (like many people) did not like it. This is definately an acquired taste. It was the same way with Yes music for me. The first time I heard Close to the Edge, I was confused and indifferent to the music, but with repeated listenings (thousands and thousands of times!) I now regard it as the best rock composition ever. Now to back to JTTCOTE; this is an addicting album! Rick has a band, orchestra, choir, and narrator perform live on stage for a concert. No overdubs (to my knowledge)! This is impressive, but also contributes to a weak point in the album. The lead vocals. One voice, the softer, higher voice, lacks character and power, while the other more operatic voice that mainly sings harmonies and backups is simply wretched, being just plain flat for most of the album. Not that its really their fault; you have a full orchestra choir and rock band on stage, and you cant expect everything to go just right. But I am for! giving on the vocals and the rather cheesy lyrics, seeing as my aforementioned favorite song ever opens with "a seasoned witch could call you from the depths of your disgrace." Ricks keyboards are excellent as ever. He tended to use a LOT of Minimoogs, and he also used a Clav quite a bit. To my dismay he didnt tear up on a Hammond organ very much (if at all), and the Steinway was neglected for most of the album. But overall, it is essential library material if you are a patient Wakeman devotee.
Shawn K McTopy on 14th August 2000 [Other reviews]
Being both a fan of Jules Verne and Yes, I much enjoy this classic from Rick Wakeman. Rick's keyboard playing meshes quite well with the orchestra. The vocals are somewhat light and some of the lyrics are a little cheesy. However, I find anyway, that this lends a certain charm and cosmic spacey-ness to the recording. To my ears, in some sections, the choir is a little overdone but that's not a bad thing in the genre of prog-rock. The narration is most excellent. I believe some of the narrative comes verbatim right from Verne's novel itself(?) - nice touch! This disc makes for great Lava-Lamp listening! For fans of Yes (and other prog-rockers), as well as Jules Verne's classic sci-fi story, I would definitely recommend this disc.
George Pendred on 26th June 2000 [Other reviews]
This has been my favourate album since I was under 5 years old. If you haven't yet bought it, buy it. The orchestration is magnificent as is Rick's keyboard playing. Best album in the world ever.
Guillermo Villegas on 22nd May 2000 [Other reviews]
I love this album!!!!!! This album makes Rick the Beethoven of our time!!! Every damn piece is written by Rick himself! I just don't believe it, great orchestration and choir. Rick plays the keyboards with his magic fingers as always. This one has more complex music than the Return of the Centre of the Earth, that's why I like this album more than the Return. The narration is cool too...
Max Hult on 29th February 2000 [Other reviews]
Great album, not as good as Arthur and Return though... My first impression of this album was not very good, but it's like most other Wakeman-albums, the more you listen the more you like it... If you're thinking of buying Journey, I can recommend Voyage instead, since it contains the whole Journey plus you get the best of his earlier albums for just a few bucks more...
Sanjeev Raman on 25th November 1999 [Other reviews]
A great concept album. I remember reading the novel when I was a kid in school. The album blows me away just as much as the book did. Makes you nostalgic of the old times!! The music interspersed with the narrative provides a good scenic texture to the whole body of work. A brilliant piece of music!!
Siggi Zielinski on 18th October 1999 [Other reviews]
I think this was a good effort, it has many good bits and pieces, but as a whole it seems incoherent to me and I can't stand the vocalists. Maybe it would have sounded better in the studio.
Ben Jordan on 29th January 1999 [Other reviews]
Journey is a masterpiece - a great fusion of 70's rock, orchestra and choir that stands out far apart from the music of that decade, and indeed the decades since. A concept album, based on the Jules Verne epic, told with great panache and atmosphere. I'd be lying if I said it didn't at times strongly evoke the time it was made, but why should age detract from enjoyability? You can criticise this album for sounding dated (and everyone's opinion is fair enough), but I wasn't even alive when it came out and it doesn't bother me at all. Indeed, it is precisely this which makes it even more unique today - you won't get anything that compares to this now (unless perhaps it was produced by Rick!) The vocals I feel required artists of a deeper timbre, though the narrator's voice and delivery is spot on. Listen to this and you'll know why Rick felt was worth making a sequel. A true classic.
Josh Fitz on 1st February 1998 [Other reviews]
This is an amazing album. Rick transfer the Jules Verne novel into music, and for the most part, it works. This is also a must-have for fans of psychedelic rock. Because even though the music is good, he uses some of the funnist sounding keyboards ever! Excellent.
Bjorn Olaf Syvertsen on 4th December 1997 [Other reviews]
This album is really great, except for Ashley Holt's voice, which should be kept in a studio (he sings very well on "No Earthly Connection".) On the b-side his voice cracks terribly. But apart from that, this album is excellent. The music is very melodic, and yet complex. It is always fun listening to it. This album is perhaps the nearest thing to a fusion of rock and classical music the 70s brought, with some competition from Mike Oldfield's "Ommadawn" and "Tubular Bells", Camel's "The Snow goose", "Close to the Edge" and "Tales from Topographic Oceans" by Yes, and "Sheherezade and other stories" by Renaissance.
Downeast Bruce on 21st June 1997 [Other reviews]
A bold experiment that works! Listen to this one, in it's entirety, in a "quasi-quad" mode. Kick back in the "Lazy-Boy", close your eyes, and become engulfed in the fantasy.
Eduardo Valle on 1st February 1997 [Other reviews]
This album is both operatic rock, and symphonic rock. The music creates an atmosphere that leads us to the journey as written by Jules Verne. A sense of adventure is created, being in keeping with the story. The overture shows the power of the whole album. Choir and orchestra were used with keyboards, in a wonderful combination. A classical album that can not be absent of your collection.