The Myths & Legends of King Arthur & The Knights of the Round Table (1975)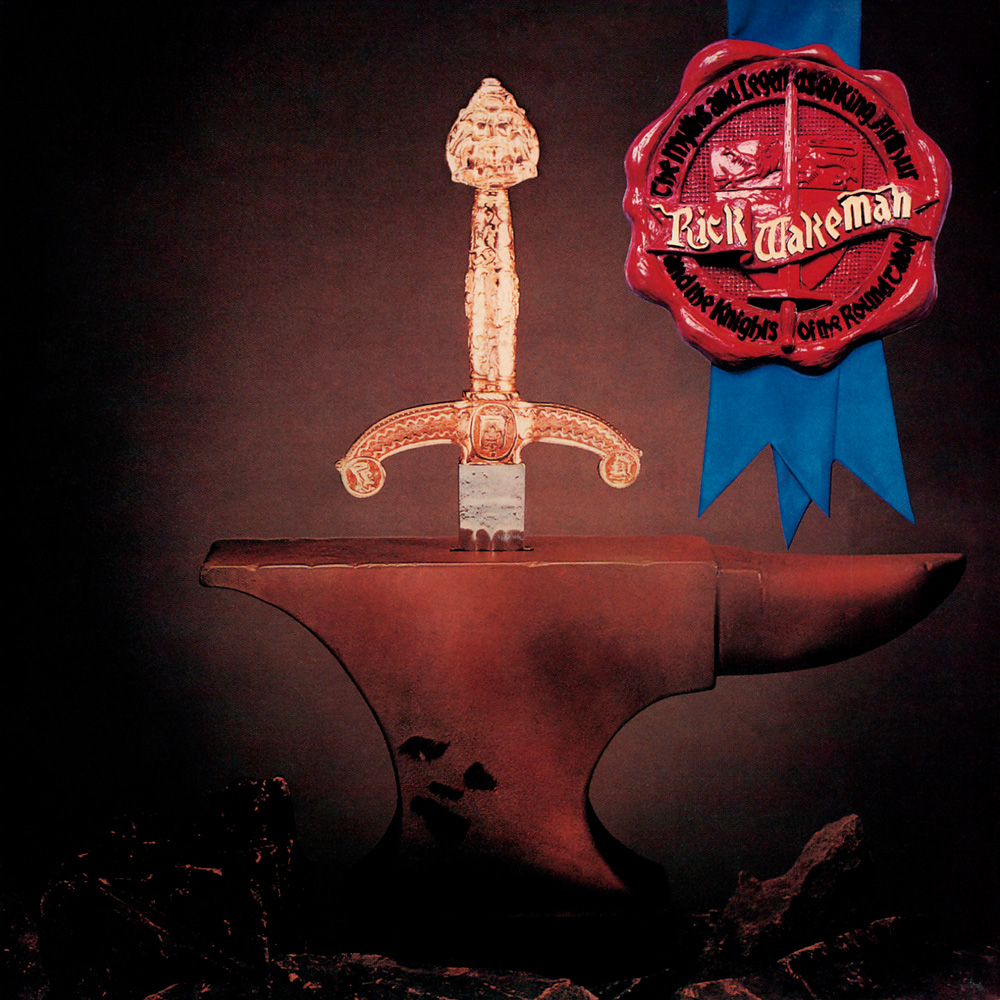 Buy CD&nbsp from Emporium

Rick's Perspective
Notes
This is in many ways a musical autobiography. Much was written in my head whilst lying in Wexham Park Hospital after my first minor heart attack. The Last Battle I wrote after being advised by the specialist, in front of my management, that he recommended I stopped playing and retired in order to give myself a chance of a reasonable recovery.
I was 25.
Thankfully I ignored the advice, wrote The Last Battle that night, and carried on. Heart surgery has come a long way since the mid seventies as well thankfully!
Wakey's Verdict
A very hard album for me to listen to as I can hear the real story within the music. Having said that I think the main theme is probably the best I have written and I am genuinely quite proud of it.
Little Known Trivia
When I recorded the moog solo on Merlin the Magician I was struggling to make it happen and in frustration crossed the road from the studio to the main bar at Morgan Studios and downed five treble scotches in quick succession. I then returned to the studio and played the solo. I then don't remember too much.
The solo was kept.
Reviews
Mike O'Shea on 27th April 2023 [Other reviews]
Very "symphonic" and classical at times and heavier progressive rock in other places. All centered around the Arthurian legends, that I love as well. As always, when Rick is involved, the musicianship is impeccable.
Criag on 1st June 2017 [Other reviews]
Like quite many I suspect, my first Rick album was Journey To The Centre of The Earth. This one was next and I regard both as absolute classics - beautifully constructed and performed.
Marcio Aloysio Pinto on 30th June 2016 [Other reviews]
A very sensitive and courageous album with beautifully touching themes like Guinevere and The Last Battle. It will be in our hearts confirming Wakeman as a composer whose works will remain forever respected, beloved and remenbered.Great performance. A gentle trip with the artist into a melancolic dream.
Robert Nancarrow on 28th April 2013 [Other reviews]
This was the first Rick Wakeman album that I heard, back in 1975. I remember hearing "Merlin the Magician" on the Jonnie Walker album chart during half term in October 1975. I was immediately captivated. What I didn't realise at the time, was how many other well know works he had contributed to with artists like David Bowie, Cat Stevens and others.
The album captivated my imagination. The choral and orchestral arrangements were breath taking, as were the keyboards. Tracks such as "Arthur" and" The last Battle" were both powerful and emotive and still have the same effect all these year later. A tremendous album - it always gave me a great buzz when the overture from "Arthur" was used for the coverage of the general election!
Juan Mares on 18th January 2013 [Other reviews]
This one is my favourite record from Rick. It brings together three of my greatest passions: progressive rock, keyboards and the Arthurian myths. Very few times, if ever, have I found a record that blends so smoothly the sound of a rock band with electronic keyboards, an orchestra and choir. The opener, "Arthur" is absolutely breathtaking for the ambient, melodies and orchestration, a real paramount of this kind of music, but there is much more here: the strength of "The Black Knight", "Merlin" which sounds mysterious and humourous at the same time, or the final track, evocative and melancholic. Maybe this is not the best record to introduce someone to Rick's music (that would be probably "The Six Wives"), but for me this one is his most polished gem.
Rich Deem on 2nd March 2009 [Other reviews]
I think it's time for a review. This LP has it all. Rock, Prog, Classical….you name it. But it's more than that. When I first heard it, I was lost in Camelot.
Marty on 21st February 2009 [Other reviews]
I bought this after JOURNEY' and found it VERY difficult to get into at first !!!! But i stuck with it, and it soon floated my boat !!! Iv got it on CD, but still have it on vinyl, the middle of the gatefold sleeve is bril',and the booklet is bril', great music and great escapism !!!
Caroline Locke on 20th August 2008 [Other reviews]
Fantastic orchestration.The first track is so powerful it bring tears to my eyes everytime I listen to it.I bought it in the early Eighties.I have loved Rick's piano playing since 1976.I sincerely believe that Rick is a musical genius.
Fernando Lantery on 24th September 2005 [Other reviews]
Absolutely amazing! Everything I like is in here, classic style music using a lot of harpsichords, medieval choirs, excellent piano works and a lot of amazing classics keyboards sounds, featuring vintage Moogs and Mellotrons very well interpreted. It sound very creative, there is a huge orchestra sounds with exotic instruments (like church bells), that only Rick has the audacity to use.
Col on 6th December 2004 [Other reviews]
I can never listen to this album without remembering that amazing gig at Wembley on ice. The orchestra all fall over trying to get to their positions, the skaters collided a couple of times ended on their arses. But behind it all the sublime music.
Carlos Fernandez on 6th July 2004 [Other reviews]
The best gift in my life. Thank you, Rick.
Clive Stitfall on 13th February 2004 [Other reviews]
My first LP. A lucky guess on my part based on hearing snippets of Yes at school. This was and remains a "classic" album and it's hard to pick a favourite track. Nearly 30 years on and I still can't listen to it without playing "air" keyboard. It's a rollercoaster ride through musical moods evoking images of each of the characters. If there's another album like this out there, let me know as I'd love to hear it.
Alan Morgan on 23rd October 2003 [Other reviews]
Having heard Journey when it first came out in 1974, I was really eager to hear what Arthur held in store for us. The packaged Booklet was a joy to handle for the first time, and I anticipated the music with what can only be described as glee. Back were the vocal duo from the previous release, and in fine voice they were too. Every track on this has it's merits, but my favourites have to be the Opener, "Arthur" and the opening track from the second side, "Merlin". The spoken word finish, concerning the fate of Arthur was very moving, and I do wonder how much of that last statement is true. Arthurian Legend is one of my interests, and this is a very fitting musical tribute.
Allan Minder on 22nd August 2003 [Other reviews]
A true masterpiece! This unique combination of orchestral and progressive has to be heard to be believed. Some of his leads will remind you of his rockin "YES" years. This definitely has Rick's signature synths on it! A "MUST HAVE"
Tim Boudewijn van der Wart on 30th March 2002 [Other reviews]
The MaLoKAatKotRT is a very emotional and personal masterpiece. It is my number one Wakeman record. If anyone of you owns the family album and wonders why Rick himself isn't on it; that's because he already described himself musically here...I think Rick is Merlin; both very wise and genius as he is humorous and affectionate. The album is full of the prettiest music with an historical feeling to it, instrumentally and verbally a perfect achievement. And a definite must to all the genuine fans, if you don't like it, I can't understand what attracts you in Rick's music at all. You just got to have this, it are Rick's heart and soul that speak on this one.
Iván Melgar Morey on 9th March 2002 [Other reviews]
25 years, two vinyls, three cassetes and one CD have passed since I bought my first Myths & Legends, and certainly I've never heard a better album. This masterpiece has everything, narration, great chorus, atmosphere and of course the great talent of Rick. The songs have a perfect balance, they go from the epic Arthur to the nostalgic Last Battle. Every progressive fan must have a copy.
Tina Hansen on 27th March 2001 [Other reviews]
This album is definitely "fit for a king." It shows the power of a good story with music that anyone can appreciate.
Samantha Dawn on 5th February 2001 [Other reviews]
As a child I listened to this album. My imagination was brought to life and I was captured by its magic. I am now 33 & 10 months old, and still every time I listen to the tracks it is as if I was listening to it all for the first time. I encourage anyone to listen to the album in its entirety. Everytime you hear it, something new will delight! After playing 2 cassettes to their death and being told I could not get a replacement...I am overjoyed to be able to yet again listen to it again, on CD! Your purchase will be its weight in gold. You will not be disappointed.
Alexander Lopez on 5th October 2000 [Other reviews]
This is an album I'd choose to make a "Les Miserables" style theatre show, complete with dialogues and dances. Although Metallica and Scorpions have done this "rock band meets the symphonic orchestra" gig recently, if you purchase "The Myths and Legends..." first, you'll agree with me that those Men In Black rockers needed more training before attempting this kind of work.
Remy Struli on 5th July 2000 [Other reviews]
This album is very English and pompous, that's why I like it a lot. It has also good humour on it, at some places it reminds me always of Monty Python's Holy Grail Movie and it's also very emotional: In "The Last Battle", where the narration begins, I always nearly have to cry...Here lies King Arthur...blimey, my heart stops...Thanks, Rick.
Boran Kartal on 30th June 2000 [Other reviews]
This album is a great collage of orchestral music and progressive rock. It is one of the greatest LPs that I've ever listened to. Solo partitions by Wakeman are amazing; they take you to another world.
Dylan Groot on 5th June 2000 [Other reviews]
With this album, Rick Wakeman truly gives a new dimension to the King Arthur legend. The music is so bravely formed, that it's hard not to get dragged into the realm only Wakeman is able to create. The combination of rock and classical music is just perfect. From the romantic sound of "Guinevere" to the agressive and powerful "Sir Lancelot And The Black Knight". There are not many artists who can give sounds to legends, Wakeman makes the exception and proves he's the true Keymaster. If Merlin had transformed himself into a song, this is what he would sound like...
Carol Vance on 27th April 2000 [Other reviews]
This particular album is one of Rick Wakeman's finest works. Although it was regarded in the mid '70's as a colorful spoof with mediocre quality, I must thoroughly disagree. In studying the themes and contrapuntal texture, not to mention the addition of a stylized classical rock mixture, this album should be re-released and marketed for a new generation of music connoisseurs that appreciate true musical talent and not merely a beat with clever words thrown in. Guinevere is my favorite track as well.
Reniet Ramirez on 12th April 2000 [Other reviews]
It's a strange album if you were expecting to hear Rick the way he plays on YES. But take the time, it's worth it. It's a very nice way to learn the history of King Arthur.... It's definitely a classic!
Max Hult on 6th March 2000 [Other reviews]
This is the greatest symphonic rock album I've heard from Rick, although I'm longing to hear No Earthly Connection... a perfect record for introducing listeners to Wakeman's music... this is one of the only musts in Rick's collection of records, as it contains the most important pieces like Arthur, Merlin and The Last Battle... Lancelot is great too, although I prefer the version on King Biscuit, which contains additional trumpet melodies and so on... don't miss this one!
Phill Emmerson on 21st February 2000 [Other reviews]
Who so pulleth out this album from the record shelves shall be the true born listener of a classic album, this is an album everyone should have, reviews do not do Arthur justice, just buy it and listen. 9/10
Stephen McKinley on 25th January 2000 [Other reviews]
Although this album is now a quarter of a century old, it still sounds as good now as the day I first heard it all those years ago. Wakeman gave imagery to the Arthur mystic that no film or miniseries has ever been able to create. Every track is still a winner, but Merlin is, and probably always will be, one of the best instrumentals of last century. A must have album for all!
Sanjeev Raman on 25th November 1999 [Other reviews]
Picked up this album today along with "Journey....Earth" and "The Six wives ........". It is truly mindblowing. Calling it brilliant may be considered an understatement. Though I don't really like the vocals on it. They sound tired. But on the whole, a masterpiece. "Merlin the Magician" gets top ranking among the tracks.
Ben Jordan on 29th January 1999 [Other reviews]
The King Arthur album is another triumph for the greatest ivory-tickler in the world. Another concept album, with a stirring opener which attempts quite well to provide a medieval-meets-modern musical blend. However for me it is 'Merlin' which truly defines the album, with its melodic precision and stylisic fusion - with a madcap honkytonk interlude. I saw Rick play this track on a video of a 1975 Australian concert and you can't help but marvel at the man's gift, which for me 'Merlin' perfectly demonstrates. The other tracks are good too, but not in the same league as 'Merlin' and 'Arthur'. And the vocals are again too weak for my liking (as with Journey), but don't let that put you off - a worthwhile addition to your collection.
Murat Selcuk on 16th September 1998 [Other reviews]
After many years, I can still feel myself excited. So what more can I say!
Bjorn Olaf Syvertsen on 4th December 1997 [Other reviews]
This used to be my favourite Rick Wakeman album, but now "Journey to the Centre of the Earth" has passed it. The good thing about this album, is that some tracks are really great ("Arthur", "Sir Galahad" and "The Last Battle"), while others are not that good. The style is however very fascinating, and being a medievalist myself, I clearly delight in the lyrics, the cover and the "text book". "Arthur" is the perfect opener and my favourite Rick Wakeman track, next to "Judas Iscariot" from "Criminal Record".
Tom Brenny on 24th September 1997 [Other reviews]
The perfect marriage of rock with orchestra to create the definitive portrait of Arthur. Monumental music worthy of this great king. The moog sounds dated, but the music and orchestrations are timeless. The closest to a perfect album I've seen!
John Kennedy Mixon on 16th May 1997 [Other reviews]
This album is a triumphant artwork! One can close their eyes and picture the unfolding of personalities and perspectives of King Arthur, his Knights and, of course, Merlin. Rick has managed to intertwine the sounds of the medieval times with a touch of classical and careful use of modern instruments. This is a masterpiece in every sense of the word!
Eduardo Valle on 29th March 1997 [Other reviews]
This is Wakeman's masterpiece. The consolidation of Symphonic Rock. The atmosphere created with orchestra and choir is wonderful. The music turns around a theme, being variations of this theme. Wakeman shares his space with other musicians and orchestra allowing the music to flow without excess of virtuosity.