It's Easter and the year is vanishing fast. March was a fascinating month in many respects as WTV had its first trial run on the internet by broadcasting the concert at Carnglaze Caverns live in HD.
WTV, (possibly not the final choice for its name but a good working title), is an internet television channel that we've started and will eventually carry many of my live performances, plus live transmissions from various studios during recordings and many other hopefully innovative ideas that we are planning. More details will be on the website very soon and we are all pretty excited about this new venture.
A quick recap on March and thanks to all who came to Dublin for what was a really enjoyable night. I popped into Radio Nova as well to say hello and how well is that station doing?! Well done to everybody there. If you're remotely interested you can pick my Saturday show with Hoffy up on the internet. 6-8pm.
On the 14th I have to admit I felt very proud when Prince Charles presented me with my Fellowship of the Royal College of Music as this not only brought to a finale, my initial degree studies at the College way back in the 1960s, but also marked a new era as I am working with some of the departments there now which is really inspiring. I also am involved with the London College of Music as well and so it does seem that from being a very unruly and stubborn student, I may now be meeting some from the other side of the fence! Which is great to be honest!
The David Croft Memorial Service the next day at St Martins in the Fields was fantastic. A fabulous send off and the choir did an absolutely magnificent job with my Croft Chorus and it's just a shame that that is probably the first and last time it will ever be heard.
The Carnglaze Cavern concert was just amazing and if you're down in Cornwall it's well worth a visit. Totally unique.
April looks like being another interesting month and hopefully quite a few things will actually start to come together. There's already been one Watchdog shown and Newsquiz goes out on Radio 4 this Easter. (Such great fun to do and when you're on with comic geniuses such as Andy Hamilton, Jeremy Harding and Miles Jupp then I genuinely feel pretty humbled. Sandy Toksvig is one of the loveliest people you could ever wish to meet and wonderfully funny too. I've been on two shows now and my fingers are permanently crossed that I might get asked again.
On the 12th I will be at the Kids 'n Cancer dinner at Chesterfield Football Ground. A great charity, check out their website. On the 21st I have a one man show in Alsager, (details on the site) and I am led to believe that there are no tickets left for this, but always worth a check if you fancy going.
For later in the year there is of course Crystal Palace with the English Rock Ensemble on the 23rd June and that should be enormous fun. We will be doing a warm up show somewhere the night before but haven't found anywhere suitable yet! (But we're working on it)!
Looking even further ahead, shows are already being booked for South America in November for both Journey to the Centre of the Earth and King Arthur too and Gloucester Rugby Ground is firming up for King Arthur too, and that should be spectacular (if I get my way)!!!
All in all it seems that this year is becoming very much a development one with lots of new stuff happening plus the revival of classic material and of course new areas of musical exploration. If this continues they'll hardly be any time to be Grumpy!
...and finally....this month's photograph was taken by Corrie Corfield, (newsreader and also newsreader on Newsquiz), at the Drill Hall in London just before we recorded the show on the 5th April.
The hat does have a story...and all will be revealed in a few days and added to this GORR!
Cheers,
Rick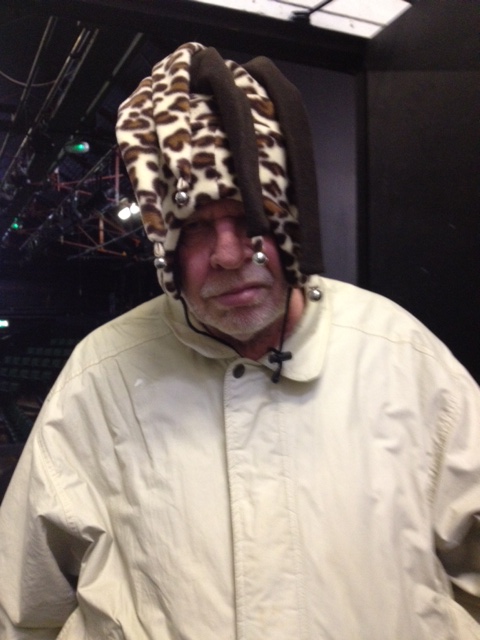 Previous Editions