What a month June was! I'm not even sure where to start but I'll do my best.
On the 1st of June Ian Lavender and myself went to Nottingham for the final part of the filming for the Celebrity Antiques Road Trip, which was the final auction and was fantastic fun with our experts David Harper and Raj Bisram both of whom have become firm friends. I can't tell you who the winner was between myself and Ian but I can say that we both made a gross profit but after fees and commissions only one of us stayed in the black.
2 shows then followed at the lovely Evesham theatre and either side of that I was working flat out preparing the orchestrations for the concert as part of the Marylebone Festival.
On the 5th of June there was a fund raising concert for the Water Rats charities near Lowestoft which was a resounding success and as well as loads of entertainers, it was lovely to see my old mate Duncan Norvell who suffered a stroke a few years ago but is now looking great and was as funny as ever.
On the 8th I did some filming for a documentary on why celebrities think they can sing. The programme looks as if it is going to be hilarious. I've no idea when it's coming out - I often find out after it's been shown, but these programmes are shown time and time again.
On the 9th, Erik Jordan and I worked all day on the keyboard rig ready for the O2 and on the Friday I practised like mad ready for the concert!!!
On Sunday 12th we had a playback at Essex University of the new King Arthur album which was fantastic and the wonderful comments from those who came really made all the hard work worthwhile, but all of us in the band who were there were constantly looking at each other, and that included me, saying things like....."Have we got to play that live"? and "Bless my soul, that's a tricky bit". (I have cleaned up the last comment).
The 13th and 14th were eyes down look in band rehearsals at The Granary and the 15th and 16th were rehearsals with the orchestra and choir in London. I was so proud of everybody involved who truly gave it their all.
Then on the 19th came the show. I will admit to feeling very stressed as I knew that the show was a culmination of almost a year's hard work and we had just 90 minutes to make it happen and happen it did. A magical concert for me from all who took part and that very much includes our wonderful crew as well.
We also managed to get the album released on the same day which was another minor miracle and thanks to everybody who e-mailed and tweeted such lovely comments. That's what really makes it all worthwhile.
Then on the 22nd I did my piano show at Christchurch. A lovely theatre and lovely people.
On Friday 24th I premiered my Rainbow Suite which is a suite of music for piano, string orchestra and choir which Guy Protheroe kindly conducted for me at the Regent Cinema in London.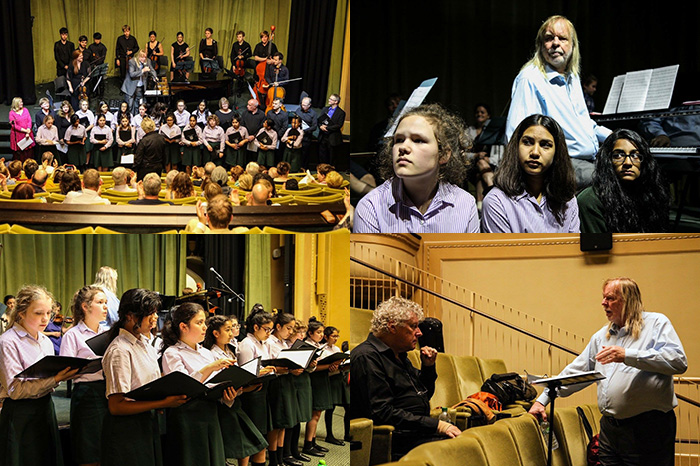 The music is specifically written to aid relaxation in the many varied aspects of life but also with an emphasis on autism as well and it was lovely to see families in the audience who had brought their children along and thanks to the response afterwards we will be recording the suite in August with a late September release.
That same evening I attended a beautiful concert with the Orion Orchestra at St James church with Sue Perkins conducting in the presence of Princess Michael of Kent and had the honour of sitting with her at the dinner later that evening. She is a true believer in helping young musicians and adores the Orion Orchestra and literally spoke to everyone with great enthusiasm....and what did she talk to me about? The Water Rats, as her husband is of course a Royal Water Rat!
The following day, the 25th, I opened the Southwold Arts Festival with my piano show and that was lovely for many reasons which included a great audience and also being only half an hour from my home!!!
Two days later I was on a plane to Tenerife to be part of a festival celebrating the amazing Stephen Hawking where I performed the Starmus piece with the Tenerife Symphony Orchestra conducted by the great Diego Navarro that I composed for the event a few years ago.
The final concert was star studded with an amazing set with the orchestra from Sarah Brightman followed by Anathema who included Stephen Hawking in their set then I had the great honour of performing Space Oddity with Chris Hadfield who sang the song on the International Space Station when David Bowie passed away and it became an internet sensation. Just piano and guitar....and it was very special.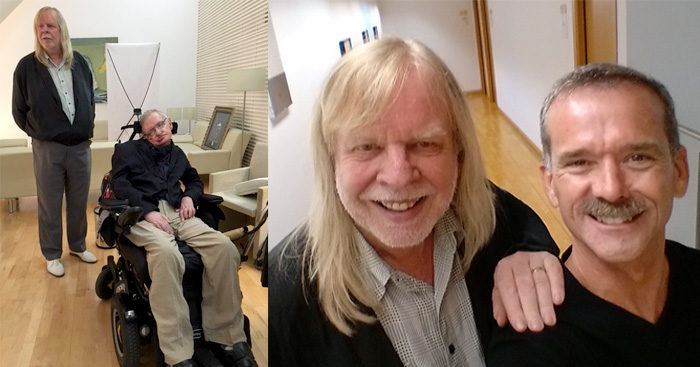 I then played the instrumental piano version of Life on Mars and then hung around to watch an astonishing performance by Hans Zimmer during which Brian May joined him on stage.
If you love space and music, then I recommend you get to the next Starmus event in Tenerife. Simply unique.
After returning back to England on July 3rd I played the final concert for the season at the Sevenoaks festival, the town where Bill Bruford was born if I recall. A lovely evening, again fabulous people and audience and that almost finishes my one man shows in the UK for 2016, just one to go in September in St Ives.
On the 11th of this month I am doing a benefit concert in aid of Moon Bears, a foundation I was introduced to by my great acting friend Peter Egan. These beautiful animals are butchered for their bile and kept in horrendous surroundings. Peter is part of a wonderful organisation who have already saved more than 800 and have vowed to continue until the vile practise stops and every bear is saved. Please check out Moon Bears and Animals Asia on the web.
My concert is at The Mill in Sonning and it would be great to have a full house so if you live not too far away, then please support their wonderful work.
On the 14th and 15th I will be recording at the Granary for a new piano album to be released by Universal later in the year. It is an album of covers but done in a classical vein and will include Morning |Has Broken, Life on Mars, Space Oddity, Amazing Grace, Stairway to Heaven and many others.
On the 19th I fly to Sicily for a concert where I will be joined on stage by Valentina Blanca who will be singing three pieces with me at the show in Taomina on the 20th.
On the 24th and 25th there will be more piano recording at The Granary and on the 30th, a bit of light relief when I play in the Water Rats golf tournament at the Royal Norwich golf club where I hope to find a few of the 11 balls that I lost there last year!!!
August is likely to be full on with everything ARW and so expect a very full report in August and an even bigger one in September.
Cheers,
Rick
Previous Editions