Not really sure where to start as so much has been going on, but here goes anyway.
First of all I know that there have been a lot of enquiries to the website as regards the A&M re-issues. I am now led to understand that the whole plan has hit some legal issues which need to be resolved and quickly too. As soon as I have any more news we will post it on the website.
Next comes the Prog Rock Awards which were held at Kew Gardens on the 5th of September and where I met so many friends, some of whom I hadn't seen for years, Mike Rutherford, Tony Banks, John Wetton, Carl Palmer, Justin Hayward, Keith Emerson, Steve Hackett and Peter Hamill to name but a few. I was also very honoured to receive the inaugural Prog God Award and the trophy now sits very proudly atop my piano.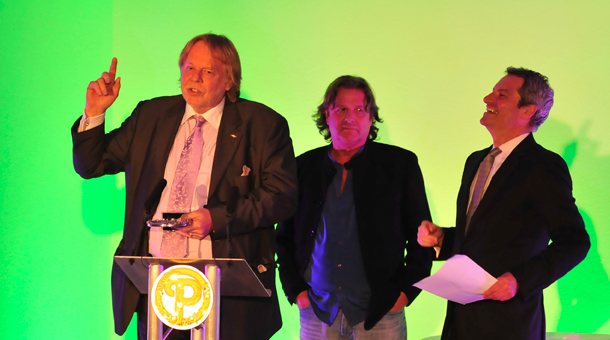 Image © progrockmag.com
As regards television I have started filming some new Rick's Rants for the new series. The scripts are so well written and they are great fun to film. For obvious reasons I can't give away the subject matter!
Journey to the Centre of the Earth is nearing completion. All the vocals are finished and the narration and all the band parts and 99% of the keyboard parts. We start recording the choir and orchestra in early September and with a modicum of good fortune the whole project should be mixed by the end of the month. It is far and away the most exciting work I've been involved with for many a long year.
On the 20th of the month I will be exercising my right as a Freeman of the City of London to take a flock of sheep across Tower Bridge! Should be fun!
There is a single one man show in September too on the 12th at Darlington. Full details are on the website.
That pretty much fills the month up. October and November are now pretty solid too and the South America shows have also just been confirmed and the dates will be on the website shortly.
I don't know where this year has gone as it seems like only yesterday I was sitting down to my Xmas dinner but I'm told time races by as you get older so to expect it to speed up even more!
More next month, but you can always catch up with my "silly" tweets @GrumpyOldRick
Cheers,
Rick
Previous Editions