Yes.......I know I'm late with the GORR, but so much has been happening, once again I find all sorts of stuff piling up on me. Those of you who read my Twitter, will hopefully understand that I have more lists than the Titanic after it hit the iceberg. Anyway, better late than never I hope.
I'll start with a small recap of the latter part of April and the wonderful 6 shows in Japan with ARW. It also gave me an opportunity to visit the wonderful KORG premises, where Erik Jordan and myself were given a full tour and the opportunity to see new instruments and new technology which will undoubtedly find its way into my rig in the coming months.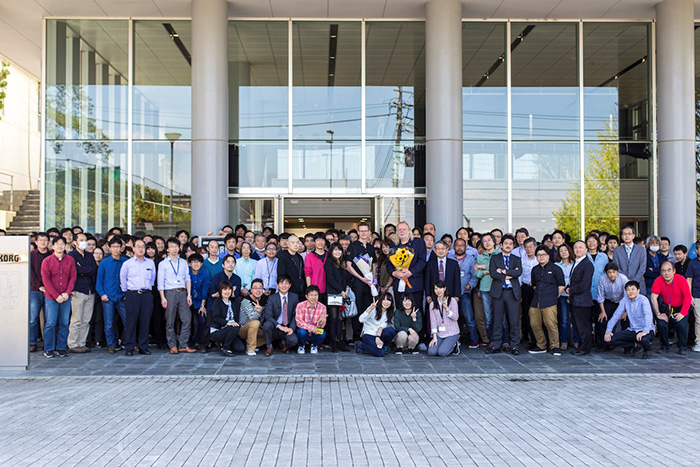 On returning from Japan it was straight into rehearsals for the Cheltenham Jazz Festival for which purposes Dave Colquhoun, Matt Pegg and myself spent a very pleasant day rehearsing at the Grand Order of Water Rats and putting together a really varied selection of pieces to play plus a few off the wall ideas that would either work really well.........or not! (We're pleased to say that they worked!)
Two days later we were on the stage at Cheltenham Town Hall and played a very different set. We did include some of my music as we knew there were some people there who wanted to hear the likes of Merlin the Magician, Eleanor Rigby and a few excerpts from The Six Wives....but perhaps what people weren't expecting was Georgia on My Mind, Sweet Georgia Brown and Baby Face (which ended up with a 50 strong audience choir on stage singing their hearts out.
I'm pleased to say we did record the show as it was so different and edited highlights will be released on CD later in the year.
Into May, and the manic workload continues.....
On the 1st of May I flew to Turin and did a piano show there, then on to Milan for another and a final show in Rome. These piano shows, (wrongly billed by the promoter as Piano Portraits shows, in spite of being told time and time again they were not), are very different to the piano shows in the UK with long instrumental piano versions of King Arthur and Journey and some other obscure stuff thrown in for good measure. I really enjoy doing these...and the food's not bad either!
The only downside to Italy was a wobbly front tooth that became a sort of cat flap and I had a cold sweat every day that it would fall out before I got home. Thankfully it didn't and a trip to the dentist revealed it wasn't quite as straightforward to sort out as I'd hoped. It appears many more dentist trips are going to be needed - not easy when you don't drink alcohol!!
On the 10th I was very honoured to be part of a concert with the Household Cavalry Brass and the Orion Orchestra at the Chapel at Wellington Barracks. It was a fabulous evening and I was proud to be a small part of the event. Wonderful musicians, wonderful people all round.

On Thursday 11th I recorded a radio show I have dreamed of being invited to do for years....Desert Island Discs.....The broadcast date is June 11th but I can't reveal any of the music or indeed my luxury item or my choice of book, but I can assure you there are a few unexpected surprises amongst my choice.
On Sunday 14th I am doing my now annual concert at the Mill in Sonning in aid of the wonderful moon bears and this time I have a trio called Triple Cream also doing a spot. I love these guys as they are brilliant musicians and hysterically funny. Not to be missed I can assure you so if you are in the area, fancy a great night and support a wonderful worthwhile cause, then please come along.
I'm taking the 18th off.......!!
On Friday 19th it is the installation of the new Master of Chelsea Lodge and having missed so many events there this year because of my workload, it's going to be great to meet up again with everybody.
On the 25th is the first Piano Portraits concert at Bury St Edmunds, which I'm thrilled to say sold out weeks ago, as indeed have most of the shows which is fabulous.
I intend to play at least 8 pieces from the album over the course of the evening with an interval. No support for this concert as I have too much music to squeeze in myself.
Finally, on the 30th....I will be recording with Erik, a track or two for the wonderful Harry Shearer....now that's going to be fun!!!
.....and then it will be June!!!!!
Cheers
Rick
Previous Editions