Well if 2018 races by as quickly as 2017 then I think I might as well leave the Xmas decorations up!
2017 finished with 3 events that always mean Xmas has truly arrived for me. There's the wonderful Thursford Xmas Spectacular......(it's worth checking this event out on line and looking at some of the fabulous photographs. Every performance sells out and it's the best Xmas show I have ever seen.
For 8 years now, my great friend Simon Mayo has invited me on to his drive time Radio 2 show in December to play listener's Xmas requests on the Elton John piano.
I actually started this when Simon was on 5 Live and the studio did not have a piano so they brought in an electric piano of sorts which was pretty grim if I recall, but when Simon moved to Radio 2, the Elton John piano suddenly came into play which took us up a gear. Here is a photo taken on the day by the BBC official photographer.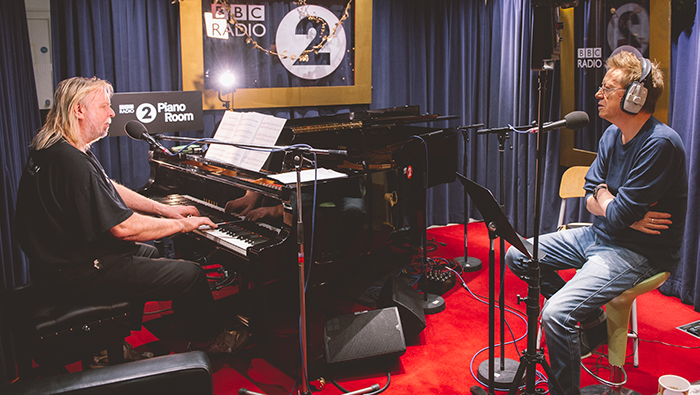 Finally there were my regular final two concerts of the year, which this year I did with son Adam at The Granary. Always a great couple of nights and now very much an annual event.
There were a couple of last minute musical items that came in, one being to play piano on the new Fizz single which had loads of plays and was a Mike Stock production and written by Mike Stock and Dave Colquhoun.
Here are a couple of photos taken at Blüthner's, one with me at the piano and the other with Jay Aston of The Fizz, who just happens to be Dave Colquhoun's wife as well.
The Fizz is made up of three of the original four members of Bucks Fizz and if you thought that the legal ownership and use of the name YES was a nightmare, then trust me, the legal rights of Bucks Fizz is even more complicated and subsequently they use The Fizz as their name.
Moving on, 2018 looks like being another diverse and interesting year, commencing with a piano concert at St Mary's Church in Alsager. I played there a few years back and everybody there was really friendly and welcoming and hopefully it will be the same this time around!!
The first part of the year is very much one of preparation for recording of a new album, more details of which will be in the next GORR as arrangements are currently being finalised.
There are a few things for me to have fun with though including a filming of another series of When Television Goes Horribly Wrong on Monday 8th.
On the 14th I will be at The Grand Order of Water Rat's lodge for the installation of our new King Rat, Adger Brown. Adger is one of the funniest men I know and all the Rats are sure he is going to be a great King.
As mentioned earlier, I am going to be spending much of January and February locked in my music room and studio every day, writing and recording as well as doing some orchestrations.
Lots of meetings apparently to decide on the YES/ARW scheduling for the year as well as solo concerts.
Tintagel has been moved to September 2019 which will be rather nice as it would be in the year of my 70th birthday, plus the 45th anniversary of King Arthur and also the 50th year of my being a true professional musician.
Now there does seem to be rather a lot of 50th anniversaries floating around at the moment which did set me wondering how these anniversaries are calculated. YES has a 50th this year, but the only people who can truly celebrate the 50 years are Jon, Bill and Tony who were there in 1968. Everybody else joined at various times later. Of course, it can be argued that not every member was there for the entire fifty year term. Truth is, there isn't one. Had Chris not passed away then he would have been the only one. I suppose the 50th anniversary simply "acknowledges" the formation of the band as it does with every other band celebrating an anniversary. My 50th anniversary with YES would actually be 2021, so I think I'll wait until then!
Although I was scratching a living as a musician as early as 1966, I class 1969 as the significant year when things started to move forward and Space Oddity being a major factor in this and so as far as I am concerned, 2019 will be my personal 50th anniversary and I already have much in the planning stage.
On March 7th at Lincoln Cathedral, we will be filming a live performance of Piano Portraits....with a difference. Instead of just performing the concert and running the cameras, we will be stopping after each piece and I may well have to play them more than once if my fingers slip!!...so it will be a fun event.
I am bringing in the "famous" Steinway that the album was recorded on and the audio will be recorded by Erik Jordan in order to get the highest quality possible.
There are various packages available for the day and these can be found on the Pledge website. Tickets are also on sale at the Cathedral.
That's about it for now...........except to wish you all a very happy and healthy 2018.
Cheers
Rick
Previous Editions