The year is racing by and the diary just keeps filling up with a lovely mixture of ARW, (now known as YES featuring Jon Anderson, Trevor Rabin and Rick Wakeman), TV and radio and solo shows of all kinds and tons of recording as well. 2018 looks equally as manic and my 70th birthday in 2019 looms ever closer.
There has been quite a bit of confusion over the upcoming Piano Portraits shows and so I have now got hold of the dates that are 100% confirmed and I am reliably informed there will be more added in the October/November period.
MAY
Thurs 25th - Bury St Edmunds Apex Centre
Sat 27th - Winchester Cathedral
JUNE
Sat 3rd - Bexhill de la Warr Pavillion
Sun 4th - Canterbury Marlowe Theatre
Thurs 8th - Buxton Opera House
Sat 10th - ...Basingstoke Anvil
Sat 17th - Leicester de Montfert Hall
Thurs 22nd - London Cadogan Hall
Sat 24rd - Birmingham Town Hall
Sun 25th - Manchester NCM Concert Hall
JULY
Wed 5th - Wavendon piano concert
Thurs 6th - Wavendon piano concert
Fri 7th - Gilfest
OCTOBER
Weds 25th - Durham Gala Theatre
Sat 28th - Hunstanton Princes Theatre
NOVEMBER
Thurs 2nd - Blackburn King Georges Hall
Fri 3rd - New Brighton Floral Pavillion
Sat 4th - Edmonton Millfield Theatre
Sun 5th - Camberley Theatre
Tues 7th - Chatham Medway
Fri 10th - South Shields Custom House
Sat 11th - Evesham Regal
Sunday 19th - Isle of Wight Medina Theatre
Lots happening in April and that includes a broadcast of a third Rick Wakeman's Key to Keys on Easter Monday on Radio 2....although at the time of writing I could not see it listed - but trust me, we've recorded it with son Adam as my special guest.
On the 4th April, I fly to New York for the Induction of YES into the Rock and Roll Hall of Fame.
On the 12th I am recording at Premier Radio, and with Steve Wright and at 6 Music, all more promotion for Piano Portraits and highlighting the upcoming shows.
Then on the 14th it's off to Japan for the following shows with YES featuring ARW....
April 17 - Tokyo, Japan – Tokyo Orchard Hall
April 18 - Tokyo, Japan – Tokyo Orchard Hall
April 19 - Tokyo, Japan – Tokyo Orchard Hall
April 21 - Osaka, Japan – Osaka Archaic Hall
April 22 - Hiroshima, Japan – Hiroshima Club Quattro
April 24 - Nagoya, Japan – Nagoya Shimin Kaikau Chu Hall
On the 27th I will be meeting up with Dave Colquhoun and Matt Pegg to rehearse our performance for the Cheltenham Jazz Festival on the 29th at Cheltenham Town Hall..........this will be quite a different show from the norm but will contain a real mixture of music with myself on piano, Dave on guitars and Matt on bass.
And finally, just a correction about the shows in Italy in May as Bari is now not happening.
2nd May Turin, teatro Concordia
3rd May Milan, teatro Manzoni
5th May Rome Sala Petrassi Auditorium.

As many of you know, I am the proud custodian of a wonderful moon bear called Cyril and last year we did a fund raiser for Moon Bears at the Mill in Sonning which was a huge success and so we are doing it again this year. Please come along if you can, but booking is recommended as last year we were oversubscribed. Full details are on the Animals Asia website.
And to finish off....here is a picture of ARW in Holland with the Dutch Fan Club.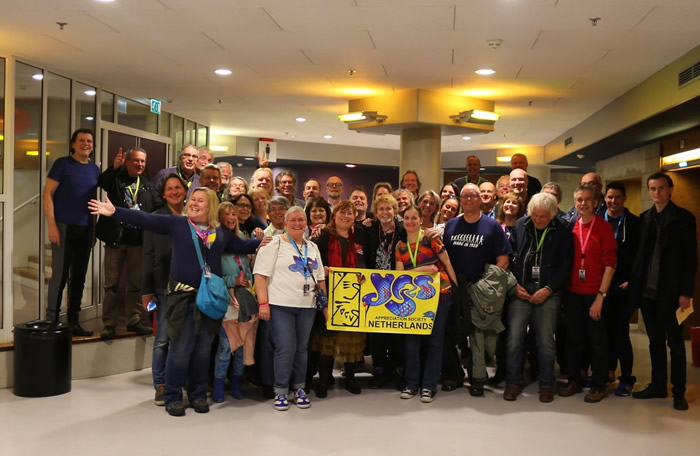 Cheers
Rick
Previous Editions