Sorry for the delay but I have a long list of excuses....and here they are, in no particular order...
1 - I have been constantly touring with the final Piano Portraits shows.
2 - On the few days that I wasn't playing I had TV and radio stuff.
3 - On the few days that I wasn't playing and not doing TV or radio, but was at home...I was doing choir arrangements for the upcoming Granary shows.
4 - I've run out of excuses now.
In truth, this year has been non-stop and if I am brutally honest, I'm knackered. I love doing all that I do but 2018 will have to ease up a little.....just a little, but ease up it has to.
Just to recap on the November, it was full of Piano Portraits shows, and thank you to all who came along to support them. I truly had a wonderful time everywhere I went and I am thrilled that the album has been enjoyed by so many people.
Also in November I did some piano on the new "Fizz" single for Xmas entitled Home For My Heart, written by Dave Colquhoun and Mike Stock and is a really nice fun record and tailor made for radio play so listen out.
I also appear briefly on the accompanying video and I filmed my bit at the fabulous Blüthner premises in Baker St in London on one of their stunning 9ft 2" concert grand pianos.

On Sunday 19th whilst on the Isle of Wight, I visited Friends of the Animals at their fabulous new headquarters in Newport and as you can see from the photographs, I had a wonderful time with owners and adopted and fostered dogs.
Helen Sinclair and her team do wonderful work saving animals from appalling mistreatment and I, along with Sue Perkins, Ian Lavender and Peter Egan amongst others, am very proud to be a patron of this wonderful charity.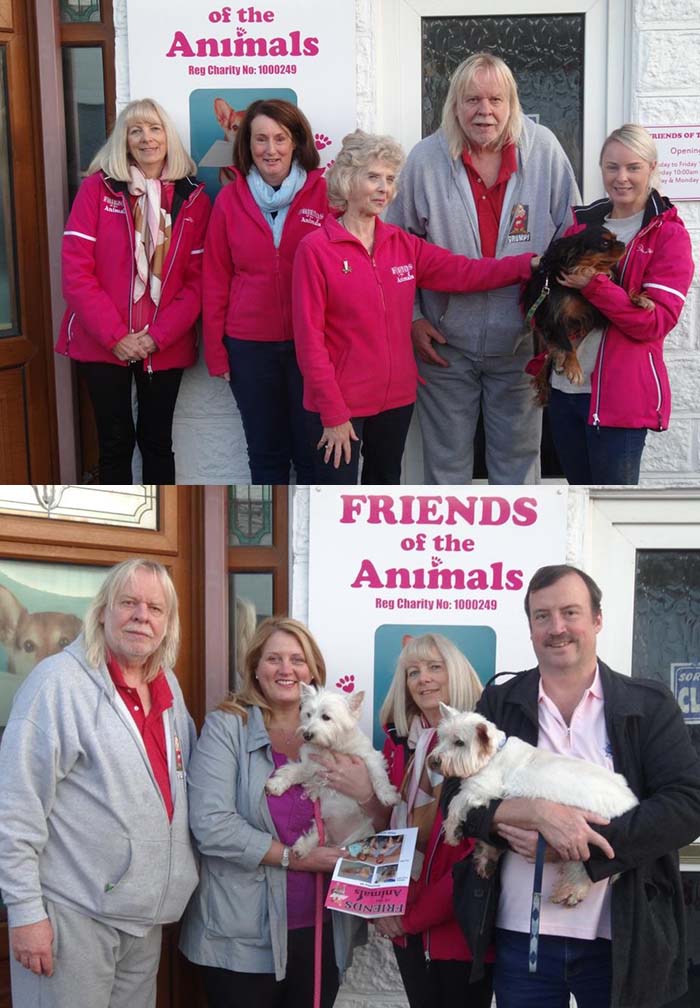 On the 17th I attended a fantastic dinner at Plaisterer's Hall in London in aid of Animals Asia and particularly the beautiful Moon Bears. The evening raised a substantial amount of money to help save some more bears and for the superb sanctuary where appallingly beaten bears who have suffered inhumane cruelty can enjoy the rest of their lives once saved. As many of you may know, there was a fundraising and awareness event being planned for this month at the Queen's House in Greenwich, but it was felt more time was needed to present this event with music from myself, Adam Wakeman and Ed Scull on a ton of percussion plus the artistic talent of Maria Rudd. We are putting a team together to make this happen for the end of 2018 around Xmas so keep checking this site as details emerge.
On the 26th I attended the Water Rats Ball at Grosvenor House in Park Lane in support of King Rat Ian Richard's final event of his reign and to see Adger Brown, (a brilliant comic), be elected as King for 2018.
On the 30th I was privileged to meet up with Bob Moog's daughter Michelle, (known by her dad as Mini Moog 3), and her filming team to be a part of a documentary about Dr Bob. I am personally so pleased this is happening as Bob was an icon and music would not be what it is today had he not built and designed the Moog synthesisers.
And now to December......and it's pretty busy too with a mixture of work and family stuff. It started on the 1st when I was filmed at Blüthner's for the Fizz video and then went to metropolis studios in Hammersmith to play a few notes of introduction on the piano for the charity single recorded by Alfie Boe and Michael Ball of the great Morecombe and Wise classic, Bring Me Sunshine.
Finally, it's a mixture of family visits and Xmas day trips plus rehearsals for the Granary concerts with Adam and the Granary Choir. Always a great way to round off the year along with a concert at Histon Baptist church on the 17th and my annual visit to see my great friend Simon Mayo and play the Elton John piano on Tuesday 19th....I am already wondering what weird and wonderful requests have come in to try and throw me as regards what to play!!!
Well that's about it for the year. Thanks again for all your support. I can assure you that 2018 will be equally as eventful and I hope it is for all of you too.
Cheers
Rick
Previous Editions